Managed Job Site services
All Managed services / Rentals Include
Equipment

Setup, install and training

Service, parts

Supplies (B/W, Color toner, 20 lbs paper)

Service agreement, which includes 1000 SQ FT per mo.

Overages billed at 9.5 cents for B/W and 27 cents for color per sq ft.
No long term commitments / obligations
Call today to customize your solution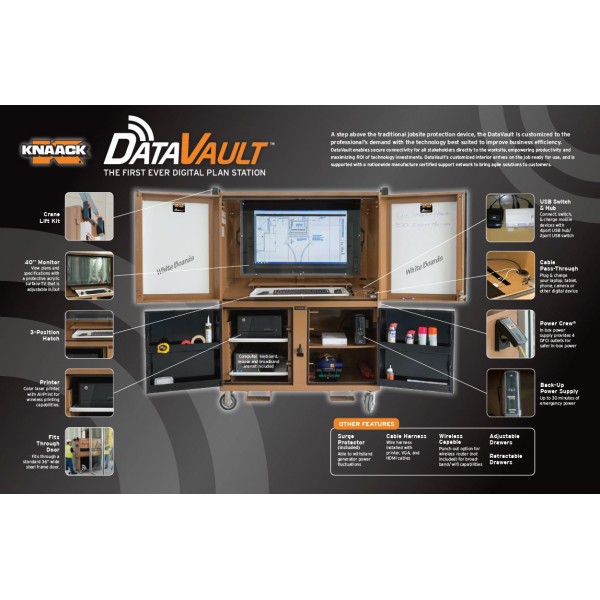 Overview
A step above the traditional jobsite protection device, KNAACK® DataVault™ Mobile Digital Plan Station is customized to the professional's demand with technology best suited to improve business efficiency. DataVault enables secure connectivity for all stakeholders directly to the worksite, empowering productivity and maximizing ROI of technology investments. DataVault's customized interior arrives on the job ready for use and is supported with a nationwide manufacture certified support network to bring agile solutions to customers.
Features
Fits through a standard 36 in wide steel door frame
Use Accessories Model 500, 497
After lift brackets are installed, 60.5 in long, 30 in wide, 77 in high.
Includes 40 in Monitor, laser printer with AirPrint, and two power strips
I3 CPU W/8GB 1 t Hard drive (computer)
Power Pass® Electrical Pass-Thru grommet provides easy, weatherproof power cord access
Steel Thickness: 16 gauge (14 gauge floor)
Powder-coat finish for superior durability and corrosion resistance
Power Crew® in box power supply provides 4 GFCI outlets for safer in-box power.
Connect, switch and charge mobile devices with a 4port USB hub and 2port USB switch
Includes UPS back-up power supply for up to 30 minutes of emergency power
Cabinet weighs 742 lbs when fully loaded with electronics
Includes wheel casters
Rental terms require an 18-mo commitment plus pick up and delivery (400.00 ea. way or 44.44 per mo)